Category Archives: General
"Accept who you are. Unless you're a serial killer."
~ Ellen DeGeneres
Vetinari: "You know, it has often crossed my mind that those men deserve a proper memorial of some sort."
Vimes: "Oh yes? In one of the main squares, perhaps?"
Vetinari: "Yes, that would be a good idea."
Vimes: "Perhaps a tableau in bronze? All seven of them raising the flag, perhaps?"
Vetinari: "Bronze, yes."
Vimes: "Really? And some sort of inspiring slogan?"
Vetinari: "Yes, indeed. Something like, perhaps, 'They Did The Job They Had To Do'?"
Vimes: "No. How dare you? How dare you! At this time! In this place! They did the job they didn't have to do, and they died doing it, and you can't give them anything. Do you understand? They fought for those who'd been abandoned, they fought for one another, and they were betrayed. Men like them always are. What good would a statue be? It'd just inspire new fools to believe they're going to be heroes. They wouldn't want that. Just let them be. For ever."
– Night Watch, by Terry Pratchett
Yes, it's about time I wrote something here. Been busy with the new house, redecorating, DIY, taming the huge garden…. And trying to get on with putting next year's Elfin Diary together.
Money's short of course (when is it not?); so I've decided to try for more web design work. So, anybody wanna website, go here. Or use the contact form on here. Or tweet me.
OK, commercial over.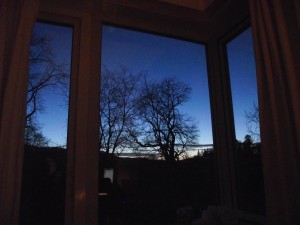 At least I've got much nicer working space. I'm no longer squeezed into a draughty hallway, fighting for space and wishing I could see some natural daylight; instead I have a big room with a fabulous view. It's not all mine – I share it with B and his array of mighty laser printers. But it's big enough for both of us, our books and files and even a sofa.
And I can't believe how lucky I am to be living in a beautiful place like this.
Looks like I might need a new title for this blog – we're moving house.
"Turn left at the bridge" is actually part of the directions for finding our current abode; from the end of next month, it's going to be something like "Keep straight on, we're the first house on the left." Which is a tad too long for a blog title, I think. So I'll keep the present title.
We're not moving far, just a few miles. I hope we don't have to do it again for a few more years – I'm stressed out already!
I read Stephen King's Under The Dome when it first came out a couple of years ago; for me, it really was one of those books that you don't want to stop reading. So when the recent TV adaptation came out, I made sure to start watching.
I nearly stopped watching after that first episode – the adaptation spiralled away from the book's plot less than 15 minutes in; yes, a mysterious impenetrable dome dropped down over the town and trapped a diverse selection of Americans inside. But that, along with the names of the principal characters, was was pretty much the only similarity with the book. Characters changed drastically; for example the book-hero was a rootless Vietnam vet who just happened to be in town, while the TV-hero – while still being an ex-marine – was a hired killer who was in town to carry out a hit. More disturbing was the change to the character of the teenage boy villain; in the book he was just plain nasty, with an undiagnosed brain tumour making him even nastier. In the TV series he was little more than a mixed-up kid with bad parenting who just needed the love of a good woman– rather, girl. Not a good message to give out to young females.
I forced myself to watch three or four more episodes, but just couldn't get involved in it. Not only did the plot carry on diverging from the book, but it was clearly just another attempt (like the pathetic FlashForward) to copy the formula of Lost. i.e., a multi-cast mystery/thriller with strong supernatural/SF elements.
The final straw came when I went online to read recaps of episodes that had already been shown in the US and discovered it just got worse, descending into outright fantasy with magic butterflies and mysterious crystals – and, moreover, a second series of the same drivel!!
Nope. Enough was enough.